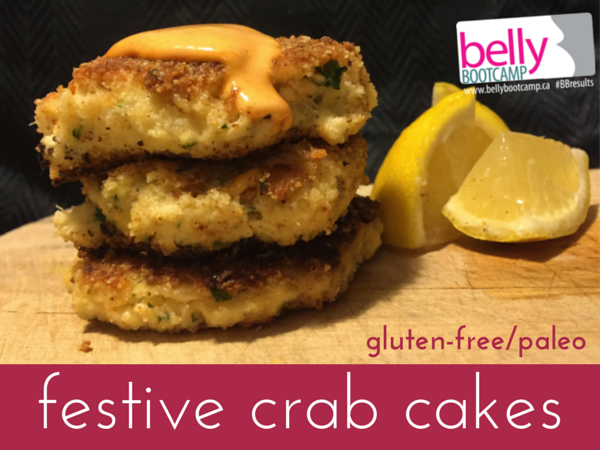 Crab. Cake. Two delicious words. One delicious recipe. No actual cake involved. With the festive season underway, slot this super yummy crab cake recipe into your holiday entertaining menu to impress your guests. Or make these for a fun weeknight meal that will win over the littles while you secretly save calories and carbs for an after-dinner glass of rum and eggnog.
One of our fave things around here is taking typical nummies and showing you how they can be just as delicious and easy, minus some of the less savoury ingredients, plus a superfood here or there. Crab cakes don't need white flour and breadcrumbs to be delicious. In the old days, everything had flour in it. OK, maybe that's not entirely true, but in 2014 we know we don't need to eat bread at every meal. This recipe relies on coconut for binding, upping the healthy fats, fibre and protein while keeping gluten out and lowering overall carbohydrate in a dish that's really all about the meat.
If you're eating a crab cake, the only thing it's gotta have is crab. One rule and one rule only (well, other than the no flour rule): no imitation crab. The rest is all negotiable. Feel free to adjust seasoning, herbs, and spices to your family's tastes. Got fresh crab? Even better.
festive crab cakes
yields 10-12
based on a recipe from thehealthyfoodie.com
3 cans (170g) crab meat, drained
1/2 cup unsweetened shredded coconut
1/4 cup coconut flour
1/2 cup real mayonnaise (homemade is best — here's a great 2-minute, one container recipe!)
2 eggs
juice of 1 lemon
1 tsp dijon mustard
1/4 cup cilantro or parsley
1 tsp each thyme, paprika, fresh black pepper
1/2 tsp garlic powder
pinch each nutmeg, cinnamon, cloves
sea salt
coconut oil, for frying
for breading:
1/2 cup unsweetened shredded coconut
1/2 cup almond meal
1/4 tsp each thyme, paprika, garlic powder
pinch sea salt + fresh black pepper
1. In a coffee grinder or small food processor, grind shredded coconut into an almost flour-like consistency. 2. Combine all crab cake ingredients thoroughly; refrigerate at least 10 minutes to firm up. 3. Use coffee grinder/processor to combine breading ingredients into coarse meal and transfer to a plate. 4. Form 10-12 even patties, pressing to approximately 3/4″ thickness and coat evenly in breading on both sides. 5. Heat coconut oil in a heavy skillet over medium heat & fry in batches until golden on both sides (about 3 minutes per side) — consider wiping pan out between batches to prevent burning remnants of breading and tainting future batches. 6. Serve warm with lemon wedges and your fave seafood sauce; try sriracha blended with your homemade mayo for a creamy kick!