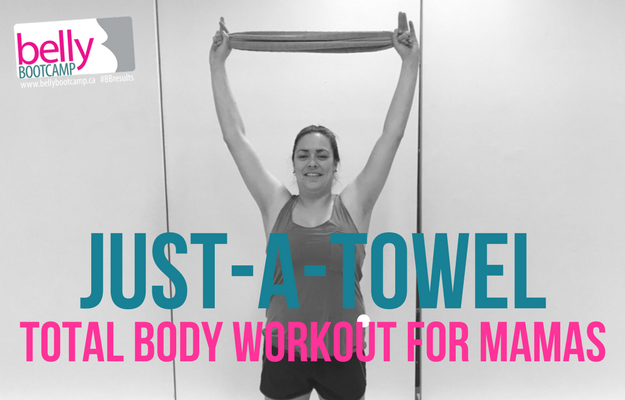 We all love squats & pushups. We all love squats and pushups, riiiiiiiighhhhhtttt?... but sometimes you just need a little something new. This total body workout uses just a towel to mix things up & help you strengthen from head to toe!
At BB we are big believers in bodyweight exercise in pregnancy & postpartum and the convenience of home workouts for mamas. After all, who has 2 hours to drive to the gym, change, wait for a machine, shower, change, and drive home? If your workout is convenient, it's 978% more likely you'll do it. That's a fact. Look it up.
But sometimes, when you don't have a state-of-the-art home gym and you're not paying for a personal trainer to constantly keep you on your toes, your home workouts might get a little humdrum.
You could always invest in a new gadget. Thighmaster! Shakeweights! Hula Chair!
Use what you've got.
There are a lot of ways to mix it up at home without investing in tons of equipment or regrettable latenight infomercial impulse buys.
You can…
use a towel.
Grab a couple of hand towels or kitchen towels. They're going to touch the floor, so maybe opt for the darker and/or already worn towels over your perfectly white guest bathroom towels.
Perform each move for 8-15 repetitions, or until fatigued. You know you're too fatigued when you can't control your breathing and the engagement of your core and/or your form starts to get messy.
Repeat for 1-3 rounds, or set a timer for 15 minutes and see how many rounds you can complete with good form before your timer goes off!
Remember to start with a warm-up and cool down with some nourishing stretches.
Here we go!
Want to watch the video? Scroll down to the bottom!
STICK BREAK
Stand with feet hip-width and hold a towel overhead, like a stick. Exhale to lift your pelvic floor & engage your core as you begin to lift one knee and bring the towel to your thigh like you are breaking a stick over your leg. Inhale to reach the towel back overhead so your arms line up with your ears, keeping your ribs down so your back doesn't arch, and place your foot down. Repeat 8-15 reps per leg.
(*Keep the knee below waist-height if you are in the third trimester of your pregnancy and/or have a rectus diastasis.) 
OVERHEAD SUMO SQUAT + SIDE BEND
Begin with feet hip-width or wider, toes turned out, and a towel overhead. Inhale to reach your bum back & squat, pressing the towel toward the ceiling and driving your hips outward, as if you are pressing the seams of your pants toward the side walls. Exhale to engage your core and press up to standing, bending slightly to the side while keeping both hips and both shoulders pointing forward. Repeat for 8-15 repetitions per side, or alternate for 16-30 reps.
SUPERMAN + CHEST PULL
Lie face-down, ribs under you & neck neutral (i.e., look down, not forward). Hold your towel in front, arms & forehead resting on the floor. You can opt to place a second rolled up towel or a pillow under your forehead to support your neck & prevent strain/arching. Raise arms off floor, squeezing your glutes (butt) to support you. Exhale to pull the towel to your upper chest, squeezing your shoulder blades down toward your bum & together toward your spine. Imagine making your neck as long as possible. Inhale to extend & lower down to the floor. Repeat for 8-15 reps.
*  Pregnant bellies can do a similar exercise seated or kneeling.
HAMSTRING CURL
Place two towels beneath your feet and lie on your back, knees bent and close to your butt. Exhale to lift your bum off the floor, keeping the back of your bra & upper back on the floor so your low back does not arch and your ribcage is level with your hipbones. Inhale to glide one foot out only as far as you can extend without arching your lower back or feeling any pain, or thrusting your ribs into the air. Exhale to lift the pelvic floor and glide the foot back to start. Repeat 8-15 reps per leg.
* Pregnant bellies or anyone experiencing pelvic/back pain can perform the hamstring curls with bum on the floor.
FLOOR ANGEL
Lie on your back, knees bent, with your hands resting on two towels at your sides. With your hands palms up, inhale deeply into the bottom of your abdomen, keeping your bum untucked and relaxing your core & pelvic floor. Exhale to lift your pelvic floor & glide your arms upward, gliding only as far as possible without arching your back away from the floor. You may find as you continue you can arc higher while still keeping your spine neutral. Complete 8-15 repetitions.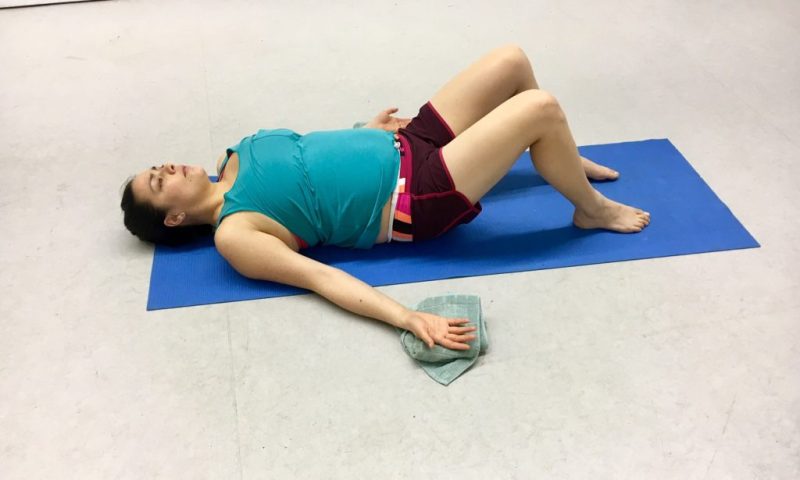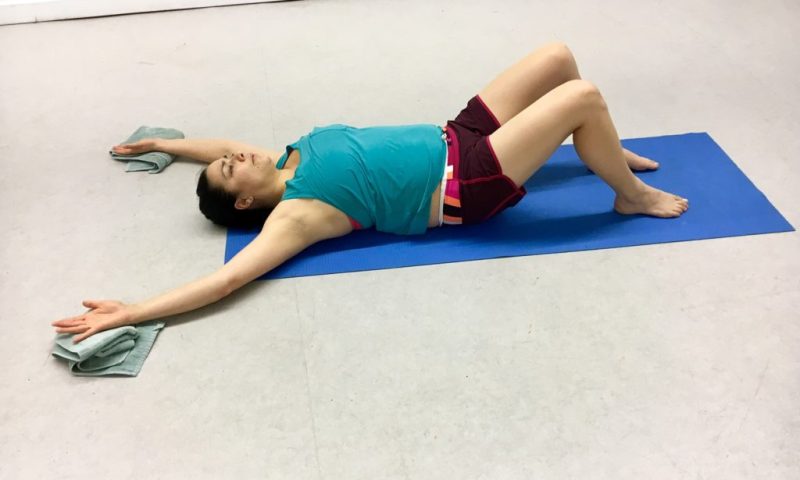 VIEW THE JUST A TOWEL WORKOUT ON THE BB YOUTUBE CHANNEL