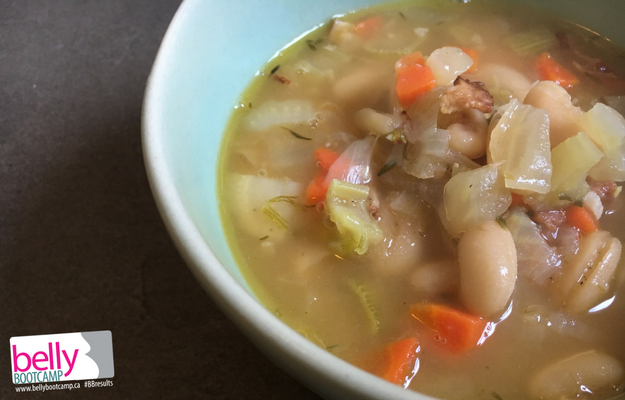 Mmmm bacon. This soup is so full of goodness you can splurge on tasty bacon flavour and it still tastes and feels "light." The bacon brings out the best in the creamy white beans and earthy, bright fennel so even the pickiest little eaters will dig in.
I love soup. It's one of my favourite things to make when I'm meal prepping on Sunday, and I often recommend to my private coaching clients they make a pot on Sunday so they've got something easy to pack for lunches aaaalllll week.
This is the perfect soup for that in-between weather, when it's not quite salad weather but it feels too summery & warm for stew and pasta. Fennel just tastes like spring to me. And white beans are easier to sneak past my kids than black beans or kidneys, plus I partly puree this soup before serving to keep the chunkiness a bit more moderate — a great strategy if you've got picky bean eaters in your house too.
Plus there's a secret little ingredient, something you've maybe got kicking around in your fridge anyway, slowly dying. More on that later.
It's practically a meal in one, loaded with fibre and protein. Try serving it for dinner with a delicious, big salad and some fresh french bread, or pack it for lunch with some fruit on the side. You'll be full for hours.
Vegetarians, you can omit the bacon & use your choice of olive oil or coconut oil.
White Bean + Fennel Soup with Bacon
The perfect spring soup, loaded with goodness. A hearty meal in a bowl!
Serves 6.
Ingredients
5-6 slices natural bacon, chopped
1 large bulb fennel, chopped
2 carrots, peeled & chopped
2 stalks celery, chopped
2 medium onions, chopped
3-4 cloves garlic, minced
1-2 sprigs fresh thyme and/or fresh rosemary
2-3 bay leaves
2 cans no-salt-added white navy/cannelini beans, not drained*
6-8 cups no-salt-added chicken broth, homemade stock or water
rind of parmesan wedge** (optional)
juice of 1 lemon
sea salt & ground pepper
Directions
Over medium heat in a large pot, saute bacon until rendered but not burnt. Remove bacon with slotted spoon but retain bacon fat.
Add onion, celery, carrot & fennel, and saute about 10 minutes until a bit tender. Add olive oil or butter if needed.
Add garlic; saute another 1-2 minutes until fragrant.
Combine beans with starch, herbs, broth, and parmesan in pot. Return bacon to pot.
Bring to a boil, then reduce to a simmer over low heat and allow to cook, partially covered, for at least 20-30 minutes (longer for more flavour, up to 1-2 hours). Add water as needed if soup reduces too much.
Use a potato masher or immersion blender to partially mash/blend soup, leaving some chunks of bright orange carrot & whole beans (or blend entirely if you prefer a puree).
Taste & season as needed. Juice lemon & stir into soup before serving.