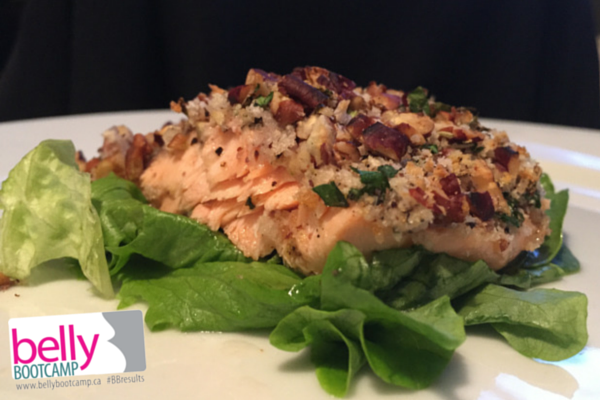 Trying to get fish on the menu more often? You'll love this simple trout recipe. It's oven baked (so the whole house doesn't smell of fish the next morning while you are making pancakes), and topped with a crunchy, salty, savoury breading that's really delicious. Even a small piece provides tons of protein and a big boost of healthy fats. Plus, trout is one fish you can often find in its wild form at urban grocery stores and fish shoppes, so you know you're getting the best nutrition for your fish dollar.
Fish isn't usually the dinner that makes a little person swoon with excitement. Sometimes, our middle child (5 years old) will see fish on the pan and exclaim, "fish!" My heart swells, and I know that experimenting with fish recipes has been worthwhile. After all, no dish delivers the same combination of protein and healthy fats as fish. Not to mention that fish takes mere minutes to prepare and cook.
So, let's talk about how to get fish on your weekly menu.
1. Don't overcook it. It doesn't have to be fine dining medium-rare every time, but it can't be dry. I don't know about you, but I grew up thinking fish had to be CHEWED. Now I know fish — especially oily fish like trout and salmon — melts in the mouth when it's cooked properly.
2. Add a topping. We do "nut" breadings quite often, often with herbs, and even with a touch of maple syrup for a sweet-&-savoury taste. A simple breadcrumb, salt, and pepper topping is fast and has that "nugget-esque" familiarity. You can also fix a simple fillet and add extra nutrition & flavour with a fresh bruschetta or fruit salsa to top.
3. Allow condiments. When all else fails, ketchup won't kill your kid. If you did overcook the fish, add back the moisture you've zapped from the flesh with a condiment. Homemade sauces are ideal, of course, but if it takes a teaspoon of ketchup to get a few ounces of protein- and omega-3-packed fish into your little one, I think you're still winning. A fave around our house for a chicken or fish dip is mayonnaise with a touch of dijon mustard.
PECAN-CRUSTED TROUT
serves 6-8
1.5 lb rainbow or steelhead trout fillet(s), preferably wild
1 cup pecan halves, toasted & chopped
1/2 cup panko bread crumbs
1/4 cup fresh parsley, chopped
2 tbsp fresh rosemary, chopped (or 2 tsp dried)
1-2 tsp kosher salt
1 tsp freshly ground black pepper
3 tbsp mayo (find a great homemade recipe here)
1/2 tbsp horseradish
zest of 1 lemon
1. Preheat oven to 450 degrees F and line a baking sheet with parchment or aluminum foil.
2. To toast pecans, place in a non-stick pan over medium heat for 4-5 minutes, shaking frequently, until browned.
3. Rinse and pat trout dry. Place on lined baking sheet.
4. Combine mayo, horseradish, and lemon zest. Spread evenly over trout fillets.
5. Combine chopped pecans, panko, parsley, rosemary, salt, and pepper. Spread evenly over mayo mixture on trout fillets, and press gently.
6. Bake 10-12 minutes, depending on thickness. Serve with a squeeze of fresh lemon and enjoy!