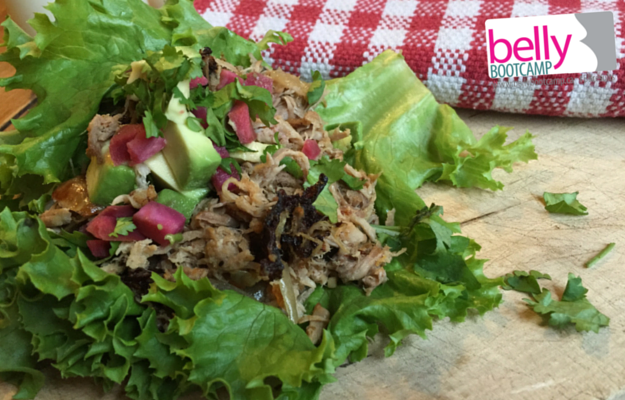 If there's one thing us mommies know how to do, it's multitask. We can breastfeed, talk on the phone, touch up a pedicure, and drink a glass of wine…all while keeping a mental timer for the pot on the stove. So how about some food that multitasks for you? This big-batch slow-cooked pork recipe is like a blank slate, full of endless dinner & lunch possibilities for your week. And with so much meat prepped in advance, you can cross one thing off that multitasking list for a couple of days. May we suggest, a second glass of wine instead?
Carnitas literally means "little meats" in Spanish, and it's about to rock your world. Even cheaper than ground pork or beef, and much, much more unctuous. It's easy to eat this straight out of the pot! Think of carnitas as you would ground beef… it's the base for tacos, burritos, lettuce wraps, sandwiches, and even simply tossed with veggies & served over rice or quinoa. The slow cooking breaks the meat down so it's tender & the furthest thing from chewy, making it a hit with the little crowd as well. Feel free to spice it up or down depending on your family's tastes.
One of my favourite ways to eat these delicious, tender carnitas is wrapped in lettuce with chopped avocado, cilantro, & quick pickled onions or artisanal pickles (pictured above). Other perfect toppings: fresh lime juice, chopped mango, pickled jalapeño peppers, real barrel sauerkraut — and nothing beats indulging in a BBQ sauce pulled pork sandwich or wrap with these carnitas as your ready-made base.
This recipe comes together in 10 minutes and — unlike a lot of slow cooker recipes — needs no pre-sear, so it's just into the crockpot and away you go! A definite staple around our house, and the leftovers never go to waste. You'll never get more mileage out of a $10 piece of meat.
One note: ask your butcher for a boneless, skinless cut. They will do this for you if you ask!
SLOW-COOKER PORK CARNITAS
based on a recipe from My Heart Beets
1 3-4 lb pork shoulder or pork butt (boneless, skinless)
1 tbsp oregano
1 tbsp cumin
1 tsp chili powder
1 bay leaf
1 cinnamon stick
pinch red chili flakes (if desired)
6 cloves garlic, minced
1 large onion, coarsely chopped
2 tsp sea salt
ground black pepper to taste
juice of 2 oranges
juice of 1 lime
coconut oil or butter for frying after cooking
1. Rinse & pat roast dry. 2. Combine oregano, cumin, & chill powder and evenly rub roast; place roast in slow cooker insert. 3. Top with garlic, onion, bay leaf, cinnamon stick, and chill flakes, if using. 4. Squeeze citrus juices on top (really dig your fingers in to get all the juice out, or use a juicing tool). 5. Cook on low for 6-8 hours or high for 4 hours. 6. Save the juices from the slow cooker to spoon out and mix with the meat. 7. Serve as is, or use coconut oil or butter to fry in pan over medium-high heat, searing and crisping, for extra yumminess.
*Pan searing is a great way to re-warm the leftover carnitas for your next night's dinner and a good time to add a sauce or any other veggies you want to add in to make a different meal every time!