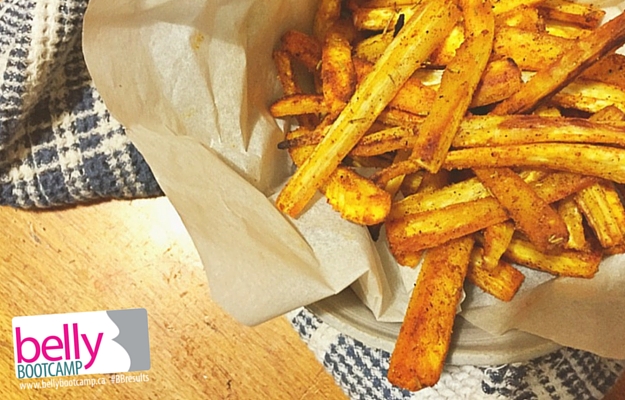 The options are endless with these sweet and savoury parsnip fries. Burger night. Movie snack. Brunch side dish. They're a fab change from the plain ol' potato and full of heart-healthy vitamins and minerals.
Ah, fries. If I could find a way to justify eating fries every day, I'd do it. In fact, I've had plenty a meal — especially in my 20s — composed of nothing but fries. There was a very memorable fries-&-champagne dinner once in New Orleans that spun into quite a night, if I recall correctly. Which I might not.
I'm constantly on the hunt for interesting fry or chip recipes. I'm not opposed to a trusty potato, but mixing it up is healthy. Parsnips are packed with potassium, folate, and B vitamins that are all essential during pregnancy, postpartum, and busy mothering years. They're also deliciously sweet and kid-friendly so you should find swapping out your usual taters (or sweet potatoes) goes over well with the ankle biter crowd.
Don't let another parsnip die in your crisper drawer! You'll finally be excited to eat parsnips once you try this recipe.
Crispy Baked Parsnip Fries
Sweet & savoury parsnip fries are the perfect healthy side dish or everyday snack!
Serves 4
Ingredients
3-4 large parsnips
2 tbsp coconut oil, melted
1 tbsp olive oil or coconut oil, melted
1 tsp paprika
1 tsp dried rosemary
1/2 tsp garlic powder
1/2 tsp sea salt
fresh ground pepper to taste
Instructions
Preheat oven to 400 degrees F. Line a rimmed baking sheet with parchment paper.
Peel and trim parsnips. Cut in half lengthwise, then slice into fries about 1 cm wide.
Combine melted coconut oil, spices, salt & pepper in a large bowl. Toss fries to coat. Spread on sheet in a single layer. Drizzle additional tbsp oil over top.
Bake 20-25 minutes.
Turn oven up to 500 degrees F, flip fries and bake another 10 minutes. If desired/needed, turn broiler on for 1 minute to crisp up.
Notes
Exact baking time will depend on thickness of fries, so keep an eye on them.
Love fries? Believe it or not, potatoes can be a regular part of your diet with these awesome crispy red skinned potato oven fries!