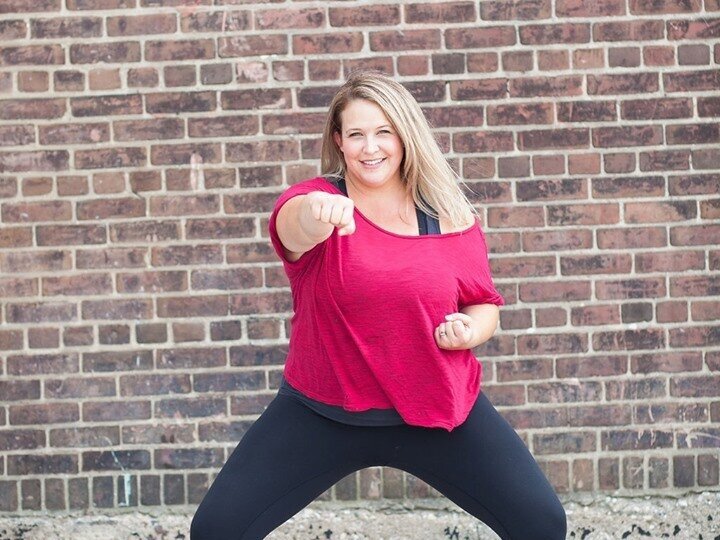 My workout routine is about 80% at home, like a lot of mamas. ?? Aside from the odd fitness class and training mamas, I've been working out at home almost exclusively for several years.
Unless you're connecting with your fellow mamas and getting incredible trainer coaching at a BB class, why bother with driving to the gym, waiting for equipment, and sharing over-bleached towels??
When I'm not taking — or teaching — a class, I just get my sweat on at home.
It's efficient. It's effective. It's low-stress. It's why I started Mama Reset, as a matter of fact.
So #socialdistancing is like my normal routine, squared.
When I first started training clients in their homes — WAY before I launched Belly Bootcamp — I stocked up on dumbbells, bars, and kettlebells to use in personal training sessions.
But I know we don't ALL have a stockpile of workout gear at home. And if we do, we might only have light, pink neoprene-coated dumbbells from the 90s that feel too "easy" for strength exercises like presses and rows.
So I put together 5 moves that use only cans, or light dumbbells, for a total body strength + cardio workout!
⭐️ Fun fact: we're featuring cans in our at-home BB online classes! We know not everyone has home equipment — but everyone needs a community and supportive coach right now. Check out our online class schedule and grab those cans. Get #BBstrong at home with us while social distancing. ⭐️
I know you're struggling to find time for yourself, but I hope this inspires you to get creative and BE OKAY with doing what you can, with what you have, Mama!
Couple of Cans Cardio + Strength Workout
Try setting a timer for 1 minute of each move. Rest, then repeat for 2-3 circuits in total to feel the total body burn using just a couple of cans or a light set of dumbbells.