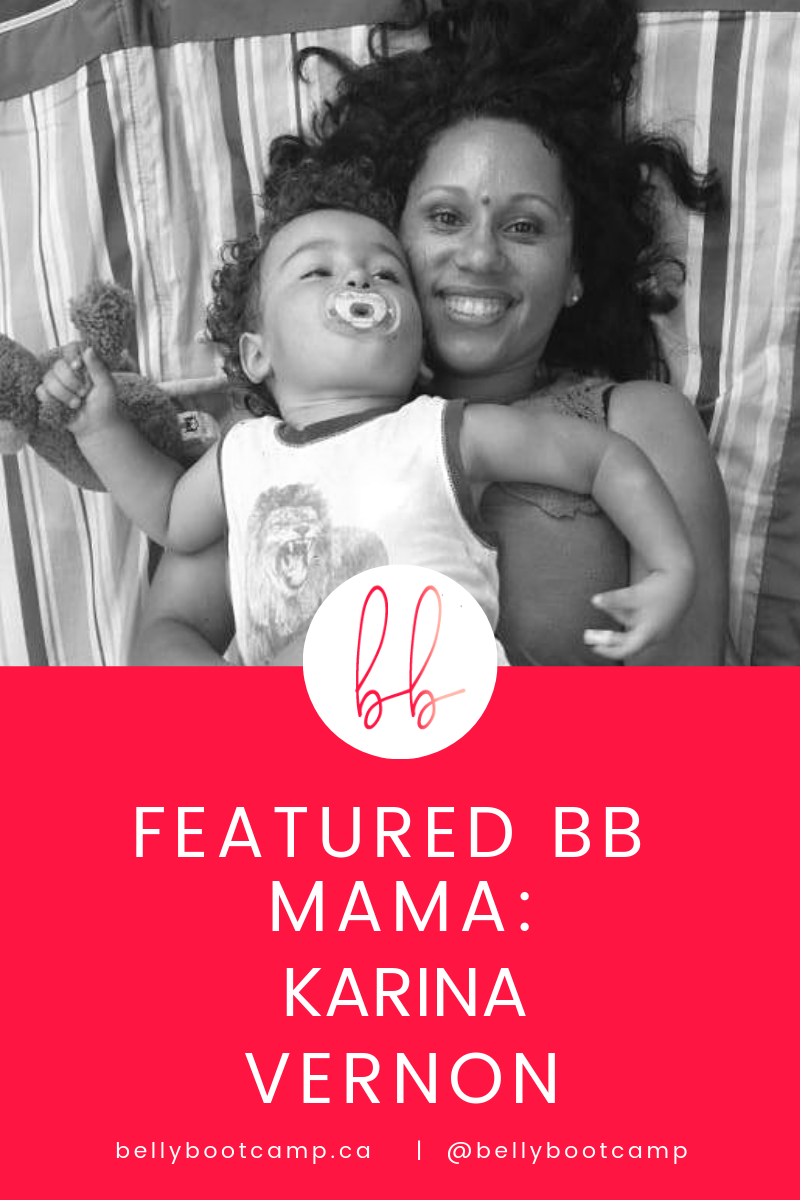 Motherhood is changing, but it can still sometimes feel like we have to keep up with antiquated expectations for women's bodies and life choices. Blargh.
At BB, we're proud to create community that celebrates every kind of pregnancy, birth, and postpartum experience.
We're so inspired by the power of our BB mamas, paving the way for greater choice and better body confidence for our daughters. Women like Karina, mama of two babes born by c-section while Karina also nurtured her amazing career as a University of Toronto Professor.
Karina began training with us when her first was small and keeps coming back when her schedule allows. She's what we call a "lifer," and we always love the chance to witness her ferocious energy and infectious smile at BB!
Thanks, Karina! We are so happy you're a part of the BB community.
Hey, Karina…
Tell us how you found the BB community.
"I've been coming to Belly Bootcamp since my first son was born in 2013. The reason I keep coming back is the body-positive training. I'm proud that I've had two babies later in life via c-section. My body still shows the ways that I made room for them and the way they needed to come into the world.
What I love about Belly Bootcamp is that I am supported by the trainers and community 100%: the training affirms my strengths and abilities in the body that I am in now, and this is a really beautiful thing. When I am training, I look around and see reflected all round me the strength and power of mothers, both inside and out.
It's hard to find a program that fits so well with my schedule and childcare challenges. My kids are no longer babies, and in the summer I often have them with me all day. I love that I can bring my big kid to BB and even integrate him into my workout!
When I'm training with BB, I feel stronger and clearer both mentally and physically! I love my strong legs and butt! And I also love the mental health benefits I've gained. When I'm working out regularly I have more patience and joy with my family, and greater concentration at work.
What's your favourite exercise?
"Squats."
"There is no exercise I truly hate because I like being challenged. Having said that, hill sprints are not my favourite…"
Imagine a perfect day of healthful meals made for you. And go!
"Oooh that would be amazing. Oatmeal and fruit for breakfast; a rice bowl with tofu, veggies and peanut sauce for lunch, and grilled fish for dinner. I've just discovered how amazing grilled peaches are for
dessert… is sweetened sour cream healthful?? "
Share some advice for the mama struggling to make time for self-care.
"I struggle too with prioritizing self care. There are times when I feel that everything else needs to come first – work, kids, relationships, the home, even the cat…. Yet so much falls into place when I invest in my own health and fitness."
Tell us how you're going to be awesome in the next year!
"I'm going to keep summoning the courage to do things I find hard, personally, professionally, and physically. And I'm going to keep trying to be kind and gentle with myself at the same time."
Define yourself in just 5 words.
Determined. Happy. Optimistic. Hopeful. Grateful.
What else should we know about you?
Connect with me on Facebook and Twitter!
READY TO FEEL STRONG AND SUPPORTED?