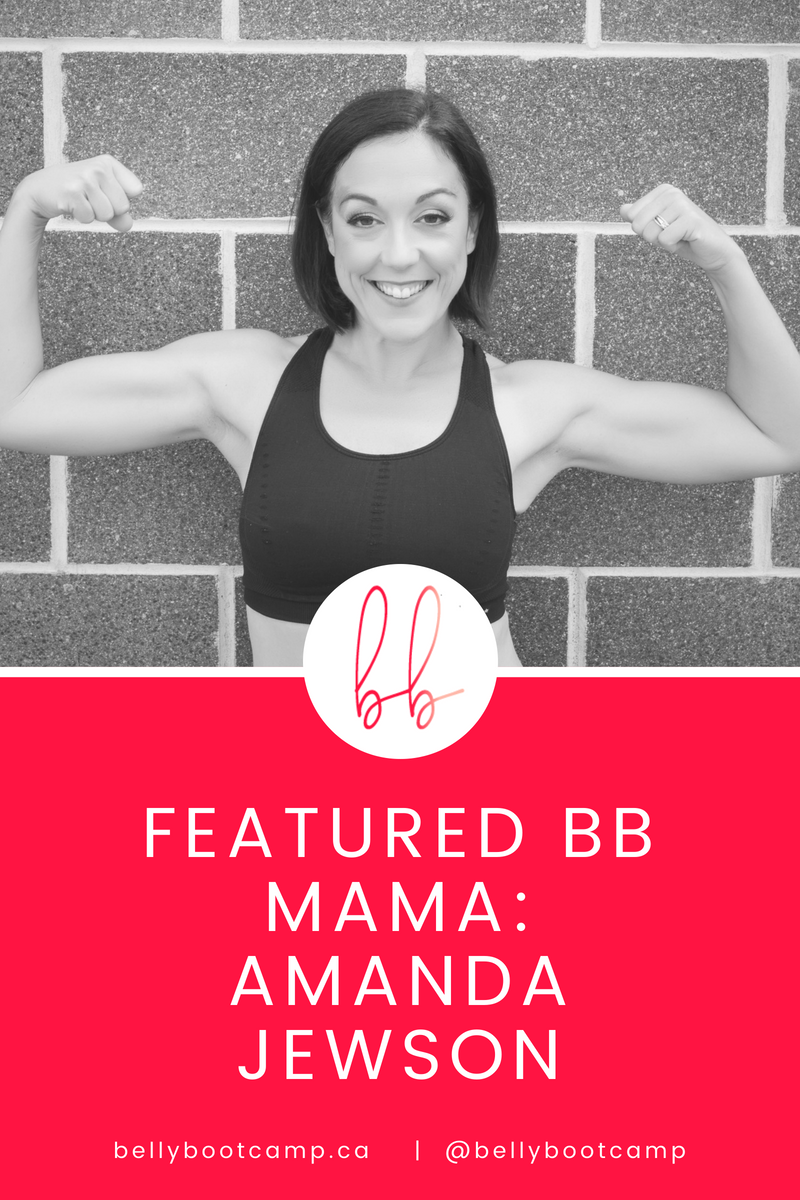 Can you love your body and still want to change? Can you celebrate changes in your appearance and still feel like a feminist?
Meet Amanda, mama of two and sleep educator. She just also happens to be a prominent member of the BB community since spring 2016. Amanda started in BB classes during her second pregnancy, and now has been a BB Online Personal Training + Nutrition Coaching client for nearly two years.
Not only does she have some powerful pipes (witness above), she's got an interesting story about low expectations and unexpected results.
Thanks, Amanda! We are so happy you're a part of the BB community.
Tell us how you found the BB community.
"I joined BB classes when I was 37-weeks pregnant with my second child. After her birth, a pretty rough go with some postpartum anxiety had me kind-of floating through my parenting. I was on my own a lot due to my husband's travel, and I wasn't preparing the best meals for me or my kids.
"I thought that maybe if I could sort out this eating thing, then the energy would come. I was also looking to stop eating entire handful of gummies several times a day. Dara was offering non-diet nutritional coaching — which is exactly what I wanted. NOT a diet.
"This program has been absolutely transformational. Inside and out. This is hard to talk about because I really and truly started this program with zero expectations. I just wanted my food to start fuelling me, and not draining me.
"What resulted was an almost 30lb weight loss, being the fittest and leanest I've been in my whole life… and the whole thing seemed effortless! I started seeing myself doing things I thought impossible: having muscles, cooking for myself, meal prepping, maintaining a healthy weight (for well over a year now).
"Seeing what was possible in my physical & mental health really opened my brain up to the possibilities of OTHER impossible things. I started my own business during this time and its thriving!
"Not only did I lose weight and get super strong, I got in touch with myself again because — spoiler alert — your feelings about your bod (mom or not) is NEVER about the food." 
What's your favourite exercise?
"Probably deadlifts or overhead kettlebell presses. I feel bad-ass when I do them."
Imagine a perfect day of healthful meals made for you. And go!
"For breakfast, something egg based with avocado. Lunch would be a great grain bowl; anything at Fresh would do. For dinner, I'd have a great burger with a delicious salad. Literally anything I didn't have to cook would be a treat!"
Share some advice for the mama struggling to make time for self-care.
"Oh god. I was YOU! After my first baby I vowed never to diet again, but then I just ate ALL the food and felt awful. I knew there was a balanced approach out there; I just didn't know how to do it on my own.
This is the very very very best thing I've done for myself. Life changing. Even my husband started personal training & nutrition coaching with Dara after my transformation. Just DO IT. You won't be sorry!"
Tell us how you're going to be awesome in the next year!
"Maintenance is a whole other ball game. My goals are to continue being mindful around food and increase my flexibility and mindfulness about my body by taking my routine up to 5 workouts per week by adding a weekly yoga workout."
Define yourself in just 5 words.
Energetic. Impulsive. Emotional. Passionate. Joyful.
What else should we know about you?
I am a sleep consultant and I started this business while in the midst of my transformation with BB — I got serious about following my passions and targeting even more impossibilites! Today, my side hustle is now my main gig! I bring sleep & peace to homes all across the GTA and the world! My social media is a mix of sleep help, snarky memes, and mama empowerment.
Connect with Amanda on social media @babysbestsleep. Visit www.babysbestsleep.com or email amanda@babysbestsleep.com.
READY FOR YOUR OWN LIFE-CHANGING EXPERIENCE?