"Strong is the new skinny." "Fit is the new black." Well, Instagram is the new Facebook. If you, like us, turn to Instagram for fitness tips and meal inspiration, you might have noticed more and more images like the one above. Aside from shielding your kids' eyes when you flip through your IG feed, why should you care? And is all that "fitspo" helping you stay on track or is it messing with your head…and your results?
That soft-core porn masquerading as "fitspo" might seem like the perfect motivation to get your butt out for a run or turn your nose up at a second glass of wine, but the truth is, it actually sabotages your fitness journey. Like the "thinspo" that came before, "fitspo" features an infinitisemally tiny range of body types — from ballet dancer skinny to fitness model skinny, basically — covered in sweat, scantily clad, and often headless. Hmmm…where have we seen that before?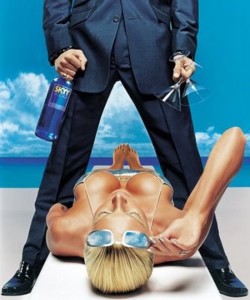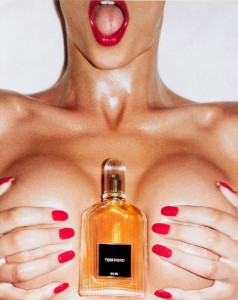 Oh right. Everywhere. To sell everything. So does putting a sports bra on the model save a sweaty, half-naked photo from "objectification" status? Sports bra or not, these images have nothing to do with health. Take it from a fitness pro: this is not fitness. Fitness DOES. Fitness ACTS. Fitness FEELS. A stripper holding dumbbells does not a fitness pro make.
TIME TO CLEAN UP YOUR FEED?
Sometimes you just have to trust your gut. When you check your IG feed, ask yourself this question:
Does this image/user make me feel good about myself or bad about myself?
You should feel entertained and motivated by your IG feed, not deflated and self-critical. Not sure? Ask yourself this question next:
Would I show this to my daughter? Is this what I will teach my daughter "fitness" means?
So you're scared deleting those accounts from your feed might be the first step down a black hole of Cheetos and elastic waistbands. You're maybe wondering: doesn't that bikini-clad fitness model army keep me on track? Isn't that the point of all this? After all, "fitspo" is short for "fitness inspiration." And if that mom of two from Texas can take a mirror selfie of her ass every morning with confidence, shouldn't you? You might feel attached to your fave "fitspo" accounts because they make you feel connected with the image you want to see in the mirror one day. But that attachment can be the exact thing holding you back from finding your own path to a healthier you.
"FITSPO" DOES THE OPPOSITE OF WHAT YOU WANT.
The idea that willpower is the only thing standing behind you and chiseled abs is completely wrong. Obsessing over impossibly lean bodies might give you a "fix" that tricks you into feeling you've somehow made a step in the direction you want to be. You're examining that one's perfectly round glutes, watching this one do squats in a bikini, and thinking, "If I just had my shit together, I would look like that."
In other words, if you don't look like that — and perhaps 1% of us do — it's because you are a failure. And you wear that failure on the outside, where everyone can see it. So be ashamed. Be ashamed of your love of pie. Be ashamed that you prefer zumba to marathons. Be ashamed that you had babies, whittled your workout schedule down to a few sacred hours a week, and acquired a new passion for goldfish crackers. If you buy into it, you have failed to succeed as a woman.
Feeling motivated yet? The truth is, you're NEVER going to look like that. That's her body. It's (probably) airbrushed. It's (definitely) filtered. It's (maybe) starved. In order to make real progress on your fitness journey, there is just one body you need to be focused on: your own.
Create a social media feed that includes various body types, various ability levels, and even various nutrition and exercise philosophies. Create a feed that reflects the real world, with all its diversity, so you can just learn one simple lesson: your body is normal. Your body is good. Your body is perfect. You can train it, feed it well, move it more, love it more, keep it clean, pamper it, and keep it safe. And that's all you can do.
Big sigh of relief. Now, isn't that simple?
SO, WHO SHOULD YOU FOLLOW?
Well, we're so happy you asked. There are tons of real trainers (not genetically blessed stay-at-home-moms selling pyramid scam supplement plans), athletes, fitness fanatics, and nutrition pros out there — local and abroad — to fill your IG with all the REAL motivation you need for all aspects of your life. Here are 10 of my personal faves to make checking your feed an inspiring, feel good experience.
1. Jen Sinkler
Jen Sinkler is a former U.S. rugby player and highly respected trainer, with real chops and a real agenda to broadcast inspiring body-positive fitness information for women. Tons of heavy lifting, smiles, and accurate fitness info here. Fair warning: you might find yourself with a bit of a girl crush.
2. The Girls Gone Strong
More a movement than anything, GGS is all about getting women active, fit and happy in their bodies at the same time. Our BB trainer Kara turned me onto GGS and founder Molly Galbraith, and if you too like your push-ups with a side of gender politics, GGS is the perfect fit for you (pun intended). You'll get tons of body-positive articles, strength training info, nutrition advice, and feel good inspiration from this feed.
3. Jill Coleman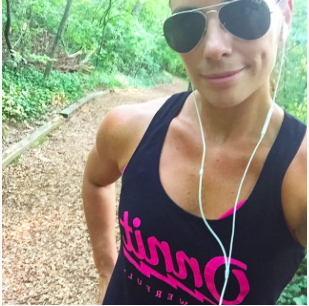 Jill Coleman used to be a figure athlete and fitness model; in other words, she was that 1% of the population you see in the "fitspo" pictures. After leaving what she calls an addictive and self-destructive fitness past behind, she now preaches moderation and self-love, and her IG features her sweaty travels and love for wine (a girl after our own hearts). Plus she's not just a pretty face; Jill's got degrees in exercise science and human nutrition to back up her advice.
4. Vitaminellen
Fitness is a lifelong journey, and when you need a reminder to hang in there for the long haul, Vitaminellen's IG is the place to go. Ellen is a 62-year old grandma, and fitter than most 20-year olds. She's sort of a fitness legend, and she posts tons of fitness videos — of her own workouts as well as her classes and bootcamps — and inspiring client success stories. Her feed is a feel good landmine.
5. Jessie Mundell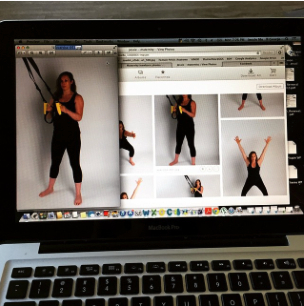 You knew we had to throw a prenatal/postnatal specialist on this list, right? Meet Jessie Mundell, a fellow Canadian who wants to get all up in your pelvic floor. See?…it's not just us. Jessie's IG has links to her well-respected articles with advice to train during pregnancy and after (without any of that "drop the baby weight in 6 weeks" nonsense). Plus, she's about to become a mom herself, so we're pretty stoked to keep following along as she joins the insomnia club.
6. Ronda Rousey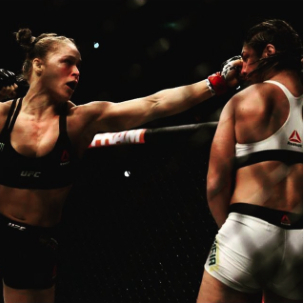 If you're into tough-chick inspiration, this is your girl. Ronda Rousey is fit, fast, tough, and unapologetic. Since she's a UFC fighter, there is the odd bikini shot, but it's about the bulging biceps and "making weight" for a fight…not cleavage and tan lines. Rousey's feed is full of amazing fight video and the odd post-fight chicken wings, which remind us she's just a regular girl…who happens to have an Olympic medal.
7. Fit Queen Irene
You cannot help but be inspired by Irene Pappas' amazing control of her mind and body. Whether you're a yogi or not, you'll love this feed. Unlike a lot of "insta-yogis," Irene's poses are about the yoga and not about the view, and she somehow radiates good vibes right out of your screen into your heart. She is incredibly strong without being incredibly lean. A very worth addition to your real-body IG routine.
8. Shauna Harrison
It's about to get all science-y up in here. The award for smartest fitness IG goes to Shauna Harrison, PhD in public health and my personal fitness hero. Shauna posts a new exercise every single day and blends hip hop, yoga, and mainstream fitness into one very useful and entertaining feed. She's geek-chic and super fit. Prepare to be inspired.
9. Amanda Bingson
You might have heard of Amanda Bingson since she rocked the world with her nude ESPN Body Issue cover. She's an Olympic hammer thrower with muscles upon muscles upon muscles. Amanda's IG is a little training, a little fashion, a little eating BBQ ribs and loving life. She's on a body-positive mission and makes no apologies for her size, strength, or success. Her sport is all about keeping weight ON, and it's a refreshing change from the usual female athlete story.
10. Plus Size Princess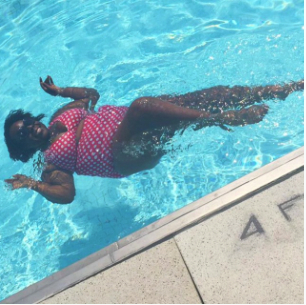 She started as a fashion blogger, but CeCe Olisa's love of health and fitness inspired her to start her own #PSPFit hashtag and a global community of plus-size (and proud) fitness fanatics. You can't help but smile when you see PSP's feed. It's chock-full of motivation, gorgeous sunny shots, and CeCe with other plus-size friends and fitness fans. Follow this one to remember fitness comes in all shapes and sizes…yours included, whatever it might be.
XO D.