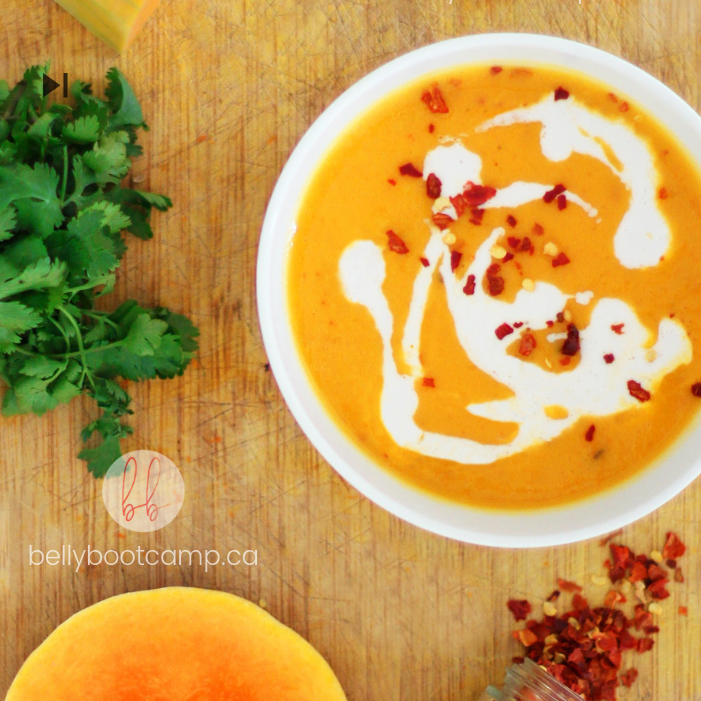 I follow a woman on social media who has this incredible saying: #fallselfisbestself. I always remember it this time of year because, truly, aren't we all motivated once summer ends to buckle down and build routine? It's like our school years never quite leave us. And when you've actually got school-age kiddos, the comforting routine and organization of autumn is even more tangible.
After a summer of roasted marshmallows and rosé, my body always craves tons of veggies in the fall. My online clients are usually ramping up their meal prep routines and one of the TOP recipe requests I hear this time of year is: SOUP.
It seems like soup destiny that this is also the time of year we get our amaaaaazing harvest of vegetables here in Canada. Leave the cucumbers and romaine to July. In the autumn and winter, we need sustenance. Warmth. Comfort.
We need squash.
Also toques and fuzzy socks. But those probably don't make for great soup
'm going to share one of our family's most favourite cold-weather soups. We've been making this for years, and I include a batch in my Sunday #MealPrep about once per month in the fall and winter.
You can adjust the spices to your liking and go crazy with garnish. This is the perfect contribution to a potluck and a beautiful appetizer course for a dinner party. Not that we have any dinner parties because, well, kids.
Maybe one day we'll go to a dinner party and I'll bring this.
xo
D.
SPICED BUTTERNUT SQUASH SOUP
Packed with flu-fighting vitamins & antioxidants, this is the perfect cold weather comfort food.
Serves 8
Ingredients
1 medium butternut squash
1 tbsp. virgin coconut oil
2 stalks celery, chopped
2 carrots, chopped
2 small onions, chopped
3-4 cloves garlic, finely chopped
1 tbsp. cumin
½ tsp. chipotle powder*
¼ tsp. cayenne powder
1/8 tsp. ground cloves
2 bay leaves
1 carton (900 mL) no-salt or low-sodium chicken broth (approx. 3 1/2 cups)
2 cups water
sea salt + ground black pepper
½ cup plain balkan or greek yogurt (for garnish)
small bunch fresh cilantro or parsley, minced (or try homemade croutons, minced scallions, chili flakes)
Directions
Preheat oven to 350 degrees.
Cut squash in half and seed; place face-down on baking sheet and bake 45-60 minutes, until tender. Cool, then scoop out flesh.
Heat coconut oil in large saucepan or soup pot over medium-low heat; add celery, onion and carrot, and sauté, covered, until soft, about 8-10 minutes.
Stir in squash, spices and broth; simmer, covered until vegetables are very tender, about 20-25 minutes.
Puree soup with immersion blender until smooth; add more water if needed. Do not thin too much or soup flavour will be diminished; soup should be thick and hearty, but smooth.
Season with salt & pepper. Serve garnished with a drizzle of yogurt and sprinkle of cilantro and chilli flakes for grown ups, or toppings of choice.
Notes
* Substitute 1 tsp chipotle sauce or 1 tsp chili powder if preferred.