This delicious fall recipe is a new favourite around my home! Bell peppers are loaded with vitamins to help stave off cold-weather colds & flus, and the protein and healthy fats in these peppers are super satisfying while still light on the tummy. Comfort food without the comfort food hangover. Serve them up the next time you have company – the recipe is easy to increase & they are fancy enough to feed the neighbours you've been meaning to invite over for a year and a half…
My hubby, J, grew up with stuffed peppers on the menu regularly, so I was nervous to attempt them. There is nothing more annoying than trying your hand at a recipe your mother in law "used to make all the time when I was a kid…" Barf. But instead of agonizing, I simply didn't ask how mama used to do it. I just made it up! No resemblance = no comparison, right? Except J claims these are EVEN BETTER than his mom used to make. And the kids cleaned them up.
#winning!
I recommend you prepare the rice in advance, and you may substitute quinoa if you prefer — something I will probably try next time. I usually make a small pot of brown rice or quinoa one night during the week, while cleaning up after dinner, to help round out school lunches for the rest of the week. This time I simply made a BIG pot and had my rice ready for these peppers the following day.
Veggies are sort of interchangeable for the stuffing but keep it simple; it's easy to make way too much stuffing. And then eat the leftover stuffing while you wait for the peppers to bake… that is also easy.
So resist the temptation to pump up the stuffing too much. You want your appetite ready for these babies to come out of the oven!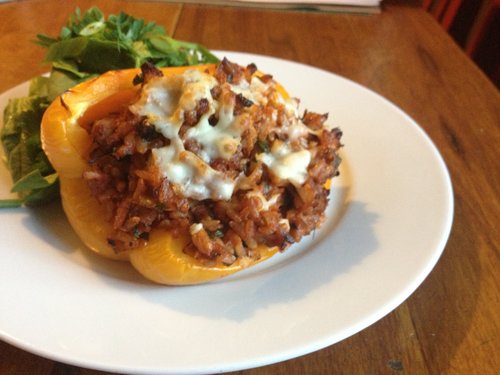 Italian Stuffed Peppers
Serves 6-8
4 large bell peppers
1 lb lean pork or turkey Italian sausage (gluten-free, preferably)
4 cups cooked brown basmati rice (or substitute your fave rice, or quinoa)
2 tbsp olive oil or coconut oil
1 small onion, chopped finely
3 cloves garlic, chopped finely
1/2 – 1 small zucchini, grated or chopped finely
1 tsp fennel seeds, crushed
1 tsp red chili pepper flakes (optional)
2 tbsp paprika
2 tbsp dried basil
1 tbsp dried thyme
1/2 cup tomato paste
1/2 cup fresh parsley, chopped
1/2 cup parmigiano reggiano, grated
salt & pepper to taste
1. Prepare rice according to directions & fluff with fork, allow to sit 5 minutes (or prepare in advance). 2. Preheat oven to 400degrees F; halve peppers lengthwise and removed seeds & stems; lightly season and sprinkle with olive oil and arrange on baking sheet. 3. Meanwhile, heat 1 tbsp oil in large saucepan over medium heat — do not burn the oil! 3. Add sausage and sauté about 5 minutes until browned, breaking into small chunks using wooden spoon (and potato masher if needed); remove & set sausage aside. 4. Add onion, fennel, garlic & chili flakes to pan & sauté 3-4 minutes until softened slightly. 5. Add zucchini and tomato paste (with 1-2 tbsp water if needed) and combine; saute 1-2 minutes to soften zucchini. 6. Add sausage, rice, basil, thyme; combine & season as needed. 7. Add parsley and remaining 1 tbsp oil. 8. Stuff peppers & bake 20 minutes. 9. Remove; top with parmigiano & return to oven for 5-10 minutes more, until peppers are soft and cheese is browned lightly.
Yummy! Serve with a mixed green and herb salad.