Soup. The universal comfort food. From the fanciest seafood bisque to the humblest clean-out-the-veggie-crisper stew, there are probably very few humans on earth who don't eat soup.
I have always loved soup. As a mama, I realized soup's amazing potential to condense and make palatable veggies my little people wouldn't ordinarily scarf down. A blended veggie soup is basically the ultimate toddler food.
Actually, it's the ultimate food in general. Veggies, legumes and meats simmered in soup are easier to digest — meaning your body absorbs more of the amazing vitamins and antioxidants, protein and fibre than with other cooking methods.
And fall is the perfect time for soup. Gazpacho is OK but soup is meant to be warm! Comforting! Belly-filling and soul satisfying. If you want to gift food to a new mama, bring her soup.
Not to mention, soup is an incredibly flexible way to cook. It can accommodate any budget. Use up virtually any leftover. Come together in 10 minutes of work, simmer for a while and feed you all week. It reheats. It travels. It even tastes better the next day.
Have I sold you on soup?
I probably didn't need to, since we already established:
Everybody in the world loves soup.
Here are 5 of my favourite veggie-packed soups that kiddos will actually eat. 5 very different flavours and ingredient bases to add to your repertoire. You can tweak, add, takeaway, double the batch, make them for company or make them for a week of lunches.
Enjoy.
xo
D.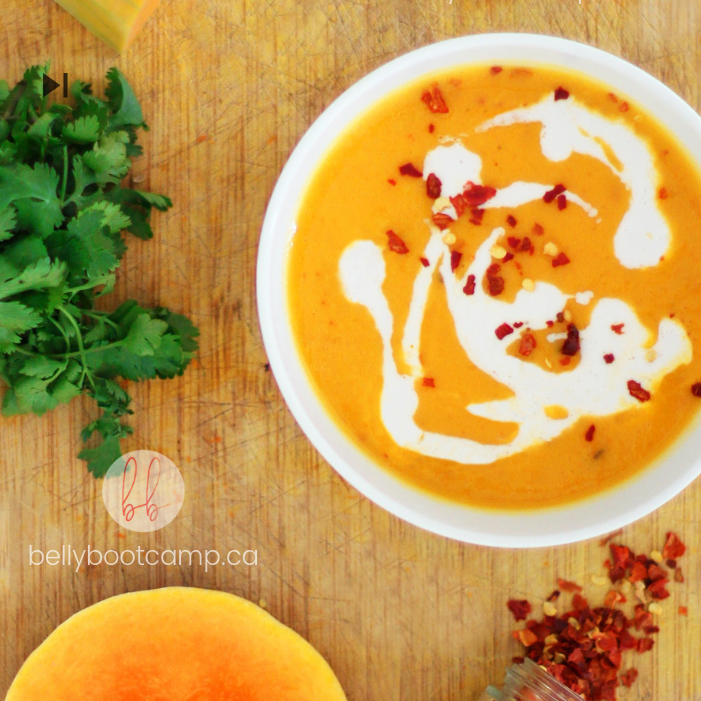 Kid Friendly Spiced Butternut Squash Soup
This cold weather comfort food is packed with flu-fighting nutrients.
Roasted Garlic And Cauliflower Soup
Just as perfect for company as it is for slurping at lunch.
Creamy, No-Cream Broccoli Potato Soup
A velvety, slurpable way to get your greens.
Curried Red Lentil Veggie Soup
Light but filling, this is the perfect Meatless Monday recipe.
Fennel And White Bean Soup With Bacon
A perfect year-round soup, hearty & full of flavour.