Any chance you're wondering what to make for dinner? This easy, homemade chicken noodle soup is about to solve ALL your problems!
I know you've got WAY more to think about than just: What's for dinner?
But I've also learned that putting just an hour or two into prepping food on Sunday makes my weekdays just ✨F L O W✨ with less stress. Not to mention, when I chop a few veggies, prep a soup and maybe bake some tofu or chicken, we ALL eat more veggies and protein. ?‍♀️ And I feel like a superhero.
I love making a pot of soup on Sunday to last all week, but you can even make THIS quick, toddler-friendly chicken noodle soup on a weeknight. ? It's that fast.⚡️
Before you go grab this recipe that I know you'll love – can we talk about noodles for a second? ?
A few years ago I rediscovered the joy of noodles in soup.
For a while I'd tried substituting zucchini noodles, yam noodles, squash, chickpeas – anything that wasn't a "noodle" in the name of maintaining the leanest possible body size. I was convinced – wrongly! – that pasta and noodles were "unhealthy." ?‍♀️
The truth is, noodles and pasta are one of the oldest foods in MANY cultures. They're cheap, easy to make, packed with energy AND can easily adapt to tons of recipes. And they're no less "healthy" than any other source of life-giving carbs when consumed as part of a well-rounded meal!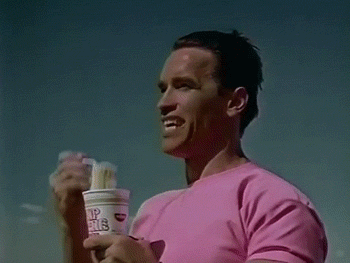 Whether you choose to eat pasta and noodles daily like many people around the world, or here and there as part of your family meal routine, let me leave you with this reminder:
You deserve to enjoy your food, Mama! ✊
Make this Quick Toddler-Friendly Chicken Noodle Soup and then sit back and relax — you've got ready-to-go lunches or a quick weeknight dinner all done! ?
No-Prep Chicken Noodle Soup
Adjust this soup based on whatever you've got on hand – toss in leftover veggies, add a can of beans, throw in some store-bought pesto. Make it your own!
2-3 boneless skinless chicken breasts

2L chicken or veggie broth

a few handfuls of broken spaghetti or penne -whatever!

1 medium onion, finely chopped • 2-3 cloves garlic, minced

2-3 carrots, peeled + diced

2 stalks celery, diced

1-2 zucchini, peppers or veggies of choice, diced

1 cup frozen peas

1/2 – 1 tbsp of any or all: dried thyme, rosemary, oregano, sage

2-3 splashes of soy sauce

salt & pepper to taste
1. Heat a splash of olive oil in bottom of soup pot and add onion, garlic, carrot and celery. Sauté a few minutes until fragrant.
2. Add broth + herbs to pot. Bring broth to a low simmer. Add chicken breasts to poach – simmer very low – not bubbling – about 15 min until cooked.
3. Remove chicken breasts and cool briefly; use 2 forks to shred meat.
4. Add more water/broth if desired and bring up to a boil. Add remaining veggies + pasta to pot; cook according to pasta instructions.
5. Return chicken + add soy sauce, salt + pepper as needed. Garnish with fresh chopped herbs or even a handful or two of chopped spinach for an extra burst of green.
SLURP.
xo
D.