This pulled chicken chili is soon to be one of your favourite freezer staples. It's a hearty combo of slow-cooked shredded chicken, black beans, corn and a rich tex-mex-spiced tomatoey broth — perfect for cooking in the oven on a cold Sunday afternoon to give you leftover lunches all week. Or cook up a batch to freeze and save for a busy week when your takeout trigger finger is itching.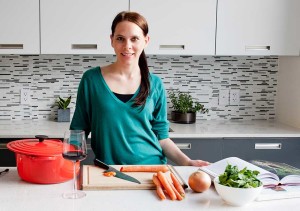 Hello Belly Bootcampers! I'm excited to be back again, sharing another recipe from my healthy family food blog, (Cooking for) Kiwi & Bean.
I am expecting my second kiddo at the beginning of January, and have already started to stock the freezer for the hectic days ahead. When I started mat leave with my first baby, I remember looking forward to all the fabulous "free time" I'd have to cook fabulous meals for my new little family. Ha! Reality hit, and instead of leisurely chopping, sauteeing, roasting, and baking my way through those first months of motherhood, I was glued to the sofa nursing and bouncing my little gal through her dinnertime witching hour. She was miserable, and Mommy and Daddy were starving.
I learned my lesson, and this time around, I am using some of the pre-baby downtime to make a pile of healthy, homemade, freezer-friendly meals. A fully-stocked freezer is manna from mama heaven. There is an indescribable joy that comes with knowing that when the dinner hour rolls around, a wholesome and home-cooked dinner is just a few microwave minutes away.
This pulled chicken chili is one of my favourite freezer staples. The rich flavour and "pulled" part of the dish comes from a few hours stewing in the oven, so (unless you are willing to go out of the house with the oven on–no judgment here) you will want to wait until you have a nice little window of at-home time: a lazy weekend morning, or a cold wintry afternoon, maybe.
We love to serve it with grated cheddar cheese, a dollop of sour cream or greek yogurt, chopped cilantro, diced tomatoes, and sliced avocado. If you want to make it even more filling, spoon it into a baked sweet potato, or side it with some brown rice, quinoa, or garlic bread.
To freeze the chili, let it cool and then transfer it to air tight glass containers or ziploc bags and stash it in the freezer.
Big Batch Pulled Chicken Chili
2 ½ pounds boneless skinless chicken thighs
1 medium onion, diced
3 tablespoons neutral-tasting cooking oil (like grapeseed, sunflower or vegetable)
4 cloves garlic, crushed or minced
3 tablespoons chili powder
1 tablespoon ground cumin
½ teaspoon cayenne pepper (optional)
4 cups low sodium chicken broth
1 jar strained tomatoes (~720 mL) or 1 large can crushed tomatoes (~796 mL/28-ounces)
1 ½ tablespoons brown sugar
1 large or 2 small cans black beans (~796 mL/28-ounces total), drained and rinced
3 cups frozen corn kernels
Sea salt to taste
1. Preheat oven to 350 F. 2. Heat oil in large dutch oven or other oven-proof pot set over medium heat. 3. When oil is shimmering, add chicken thighs; cook the thighs until they start to get brown and crispy on one side, then flip them over and brown the other side. (It is ok if your chicken thighs are too crowded to get fully browned, as long as they get a little bit of brown on them.) 4. Stir in onion and garlic and cook until they begin to soften. 5. Stir in chili powder, cumin and cayenne pepper (if you want a bit of extra heat). 6. Add chicken broth, tomatoes, sugar, black beans and corn. 7. Bring the mixture to a boil, and then cover it and transfer to a 350 degree oven for about 2 hours. 8. Lower the heat to 325 and cook for another 1 ½ to 2 hours, or until chicken is very tender and most of the liquid has been absorbed. 9. Remove chili from the oven and use two forks to shred the chicken thighs. Season with sea salt to taste.