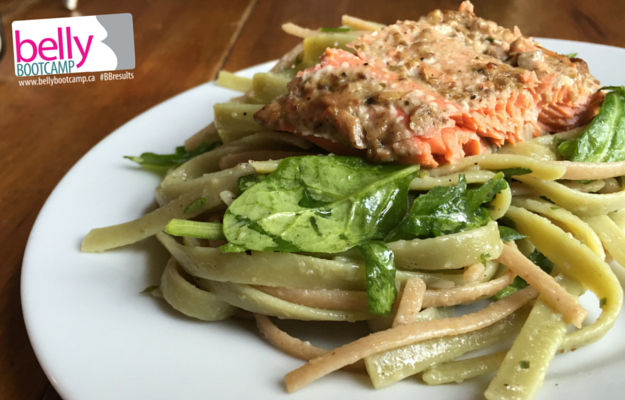 We all oughtta eat more fish. Not only is it a nutrition goldmine, packed with healthy fats and protein, it cooks quickly and flakes into the most delicious kid-friendly morsels when it's done properly. When you realize how quickly this fish dinner comes together, you'll start adding it to your regular weeknight rotation. You can pretend you slaved over it because it looks so fancy.
Around here, the kids get pretty excited about fish for dinner. I mean, not "macaroni-and-cheese-excited," but they look forward to it. I have a few tried and true tricks to help kids love fish. Check those out, but here's another top secret mom hack: serve fish with everyone's favourite side dishes. Don't save the mashed potatoes, corn on the cob, and pasta for the meats everyone already loves. Ribs don't need corn on the cob! Ribs could be served with a side of grilled shoe leather and everyone would be like, "Yay! Rib night!" Fish needs a little accessorizing.
Enter pasta. It's a match made in heaven. Both the salmon & pasta are prepped and cooked in just 20 minutes. You can definitely mix up the ingredients here and use this as a base recipe. In fact, it's so simple, I recommend you do just that. Chop some almost-soft tomatoes, rip up some basil, toss in some feta, or dice up some broccoli that's seen better days. Do what makes you happy. And nothing makes me happier than watching three children chow down on salmon.
Baked Salmon with Lemon Caper Pasta
Get excited for fish night with this fast and scrumptious dish.
Serves 6
Ingredients
1 side of wild salmon, such as sockeye (about 2 pounds)
1 lb whole grain linguine, fettucine, or pasta of choice
5-6 cloves garlic, minced
3-4 tbsp capers, drained
1 lemon
2 tbsp olive oil
1/4 cup + 2 tbsp butter, softened
1 cup fresh parsley or basil, chopped
6 cups baby spinach
pinch chili flakes (optional)
sea salt + pepper
Instructions
Preheat oven to 425 degrees F. Line a baking dish with parchment paper or aluminum foil.
Rinse salmon in cold water and pat dry. Place salmon skin-down on parchment; season with salt & pepper.
Zest and juice the lemon.
Melt 2 tbsp butter with 1-2 cloves' worth of chopped garlic and chili flakes, if using. Once melted, add 1 tablespoon lemon juice and brush butter mixture over salmon.
Bake salmon 15 minutes, roughly, until cooked but still very moist. Remove and set aside.
Meanwhile, place a large pot of heavily salted water on medium-high heat to boil; cook pasta to preferred doneness (preferably al dente). Drain and set aside.
Use the pasta pot to warm the remaining butter and olive oil together over medium heat. Add remaining garlic and sauté, stirring, 1 minute until fragrant. Add capers, lemon zest, lemon juice, and pasta and combine.
Remove from heat and stir in spinach and herbs. Season with salt & pepper if needed.
Serve salmon (without skin) on a bed of pasta with an extra squeeze of lemon juice, if desired.
Want to eat more fish? Try this gorgeous one-pan green bean & almond trout or our gluten-free "breaded" cod!