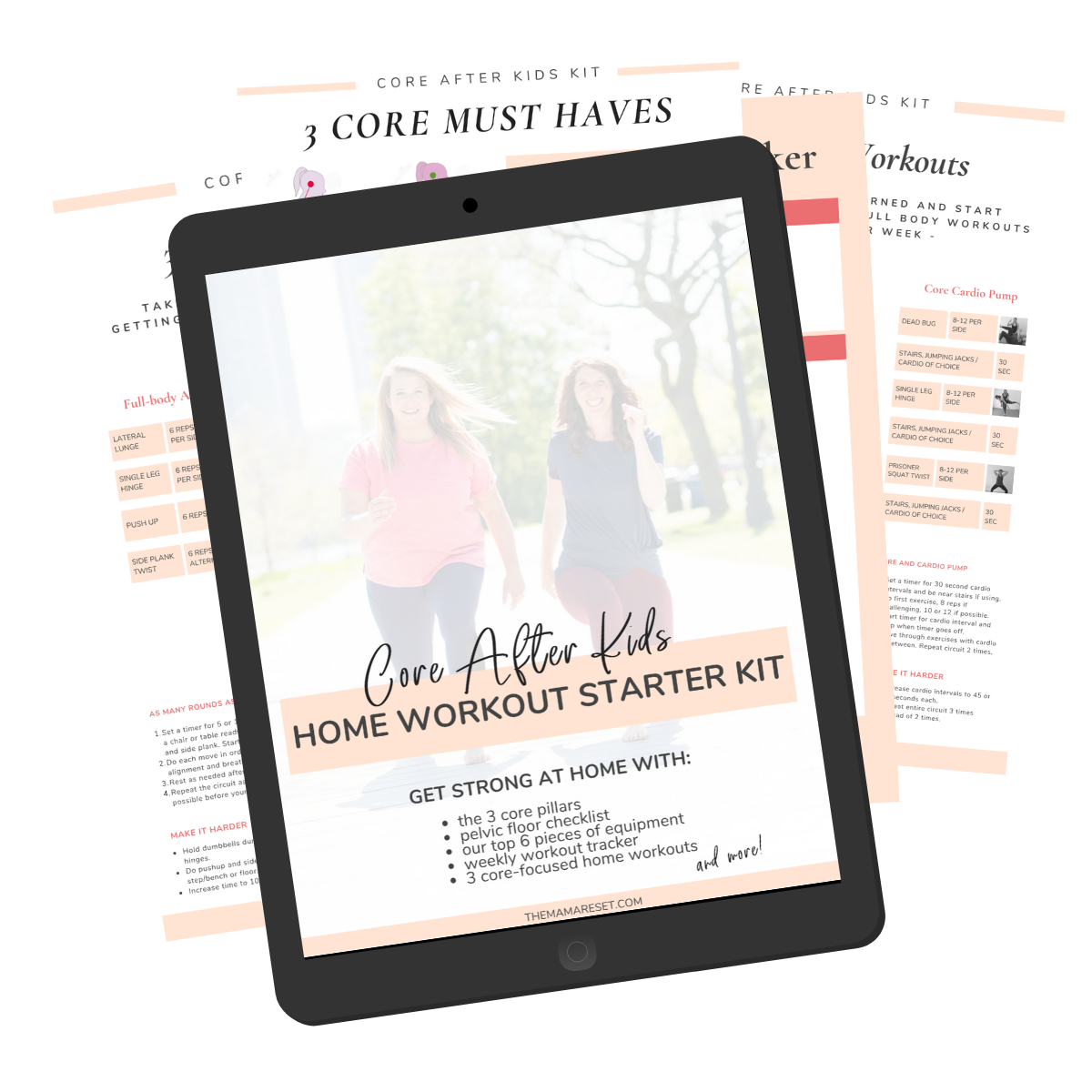 Thanks, Mama!
Your Core After Kids Home Workout Kit is on the way.
Go check your email to access your free download!
The Mama Reset Members Site will return later this summer! 
I've always been a morning person but daily exercise has been harder for me to incorporate.  The combo of your smiling faces and the simple 10 minutes has been the perfect addition to my mornings.  Seriously, my energy is totally different after your workouts!
Stop Stressing and Start Progressing
WITH A #MAMARESET MONTHLY MEMBERSHIP
Let us do the thinking for you!
Just press play on the exact workouts you need to feel strong, confident in your core, and proud of your body.
Hit the reset button and finally build a workout routine that lasts.
Start now at 20% off
Get 2 months free!
I was already exercising before I started with Mama Reset, but this helps me significantly improve my form and the effectiveness of my workouts. I highly recommend it!
Strengthen your core and start loving your workouts with a #MamaReset Membership!
Save 20% on our already incredible pricing.
Commit for a year of loving your body and get two months free!
Monthly Membership
SAVE 20%, CANCEL ANYTIME
doable workouts all 5-30 minutes

weekly emails with done-for-you plans

video databases sorted by time and intensity

choose yoga, strength or cardio

monthly trackers and bonuses

core and pelvic floor strengthening in every workout

community forums and live trainer support

done-for you plans help you make progress

  2 months free
Annual Membership
SAVE 20% + 2 MONTHS FREE
doable workouts all 5-30 minutes

weekly emails with done-for-you plans

video databases sorted by time and intensity

choose yoga, strength or cardio

monthly trackers and bonuses

core and pelvic floor strengthening in every workout

community forums and live trainer support

done-for you plans help you make progress

2 months free on annual plan