I know, it sounds like such a trainer recipe: turkey and brown rice. But when you taste these nuggets of meal-in-one awesomeness you will just be glad that anything so yummy can be good for you, too!
If you told me I'd have THREE stuffed pepper recipes on the BB site, I would never have believed you.
Want more stuffed peppers? Try these Italian Stuffed Peppers and Southwest Quinoa Stuffed Peppers — all delicious family faves!
My mama didn't make stuffed peppers often, and my culinary experiments started — as most of ours do — with the meals we ate often as kids. Still, I've discovered that stuffed peppers, when executed correctly, are not only ridiculously delicious and nutritious, they are the sort of dinner that little people gobble down.
A triple threat: yummy, good for you, and kid-friendly. The mama trifecta.
I set out to make this recipe alongside a giant batch of brown rice to prep us with easy sides for the week — and I totally recommend batch cooking your rice or quinoa when you make this recipe so you can fill your peppers and have leftover starch for other dinners or easy lunches.
Ground turkey can get a bad rap for being a little tasteless, or even "funky," but I've found when you substitute it in saucy dishes like these flavourful peppers you barely notice the substitution and get to reap the super high protein, low calorie benefits. Of course, you could easily use beef, veal, pork, chicken or even your fave non-meat "ground meat" substitute.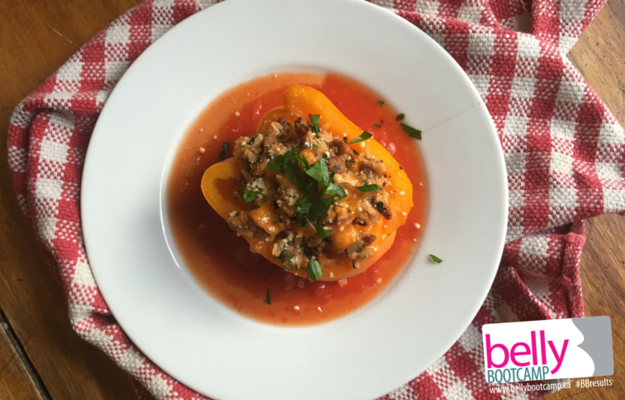 I packed this recipe with extra veggies and you can customize it by grating/mincing in any mild vegetable that might lay dying in your crisper. It's truly a balanced meal in one, so feel free to slap it on a plate with a douse of sauce and call it an evening. Or serve with a green salad to make it company-worthy.
Turkey & Brown Rice Stuffed Peppers
A delicious, kid-friendly meal in one. The hardest part of this dinner is trying to save some leftovers for lunch the next day!
Serves 4
Ingredients
4 medium-large bell peppers
1 lb lean ground turkey
1 -2 cups cooked brown rice*
1/2 cup salt-free chicken broth
1 cup passata (crushed tomatoes or tomato sauce)
1 zucchini, finely chopped or grated
1 cup mushrooms, finely chopped
1 small onion
3-4 cloves garlic, minced
2 tsp each: paprika, dried oregano and thyme
1 tsp fennel seeds, crushed
pinch cayenne
1 tbsp olive oil
sea salt & fresh pepper
cheese of choice (optional)
For sauce
1 cup passata (crushed tomatoes or tomato sauce)
1/2 cup water
1 tbsp each: apple cider vinegar, honey and paprika
1/2 small onion, grated
sea salt & fresh pepper
Instructions:
Preheat oven to 350 degrees F. Spray or lightly grease a 9×13″ baking pan.
In a large pan, warm oil over medium-high heat. Add onion, mushrooms, & zucchini and cook, stirring, 5-6 minutes until onion is softened and mushrooms & zucchini have given off most of their moisture and condensed in size.
Add turkey to pan and saute until browned, breaking up pieces as you cook. Once browned, pour chicken broth into pan and scrape browned bits off bottom, allowing broth to evaporate somewhat.
Add garlic, paprika, cayenne, and fennel; saute 1-2 minutes until fragrant.
Add passata & remaining herbs, reduce heat to low and simmer 5-10 minutes. Taste and season.
Combine cooked rice & turkey mixture. Taste and season again. Add small amounts of passata, if needed, to moisten more.
Slice peppers lengthwise and core/seed. Place in pan, face-up. Season with salt & pepper.
Fill peppers, packing slightly.
In a medium bowl, grate onion. Add remaining sauce ingredients and whisk until well combined. Taste and season, adding more vinegar/honey/seasoning according to your family's tastes.
Pour sauce carefully into pan, alongside peppers.
Cover pan with aluminum foil; bake 15-20 minutes. Remove foil, top with grated cheese if using, and bake another 10 minutes.
Allow peppers to cool 5 minutes before serving so they will hold together when sliced. Serve with a pool of sauce under each pepper, or drizzled on top, or both! Enjoy!
Notes
*Batch cook a large pot of brown rice according to package directions as you begin preparing the turkey filling. Extra rice can be saved for lunches and dinners later that week!