the gta's most beloved fitness for mamas — NOW online!
Welcome, Mama! Enjoy four live classes each week with BB Vaughan and BB Oshawa Directors Brittany and Nicole, PLUS recorded classes for download.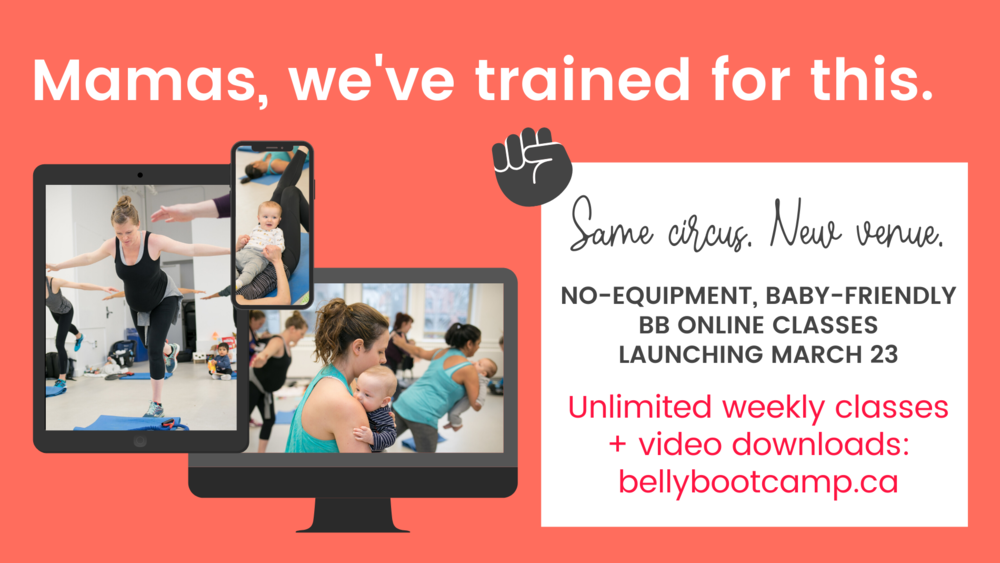 VOTED ONE OF TORONTO'S TOP BOOTCAMPS BY BLOGTO & BLOOR WEST VILLAGER!
We're the only pregnancy/postpartum classes to receive these accolades. Working with babies is our comfort zone. You won't believe what you accomplish in a BB online class!
LOVED BY TORONTO MAMAS SINCE 2009.
We don't compromise your workout just because baby is alongside. All Belly Bootcamp classes use the most effective techniques in women's fitness with devoted attention to your core & pelvic floor health and a body-positive tone. The award-winning BB method ensures a level of training you just can't get from any other fitness class.
"Belly Bootcamp is fantastic!! The instructors are great and I always leave in a good mood. The workouts are awesome and a lot of fun with the other moms & cute babies for distraction."
— JILLIAN R., HAPPY BB MAMA
JOIN THE TORONTO TRADITION ONLINE DURING #SOCIALDISTANCING.
check out the schedule below for available class times in your geographical area

attend as many classes each week as you'd like for one low fee of $20 (plus access recordings)

receive recorded downloads of each week's classes to keep and follow on your own schedule

choose to turn on video to connect with your fellow mamas and receive personalized coaching from your BB trainer OR keep video OFF for privacy and simply follow along.

EXISTING CLIENTS: transfer 1 paid BB class = 1 week of BB online classes to keep training during this hiatus
Are you an existing client joining us online? Or a new member?
BB vaughan/etobicoke Schedule
AS AN ONLINE MEMBER, ALL OF THE BELOW CLASS TIMES ARE AVAILABLE TO YOU EACH WEEK FOR JUST $20 ($80 FOR 1 MONTH OF UNLIMITED WORKOUTS)!
Don't see a class that suits you? We can provide online training for mamas, mamas + papas, and groups of mama friends. Enjoy a Custom BB experience on the schedule that suits you. Submit a request here!
We're strong, but flexible. You can send us an email to pay by cheque/EMT or ask questions.
?? NOTE: PLEASE CONSENT TO EMAIL SO WE MAY CONFIRM CLASSES + INFORM YOU OF SCHEDULE CHANGES, ONLINE ACCESS, ETC. UNSUBSCRIBE AT ANY TIME. Featured by these fine media friends, and more:
"These classes are often the highlight of my week!"
— JO G., HAPPY BB MAMA
Meet Brittany
DIRECTOR, BB VAUGHAN
Brittany Jackson is a mama of 2, bonus mom to 1, certified trainer and fitness fanatic! Brittany is passionate about helping mamas feel great through movement that works for them in a supportive community to keep them motivated. When she's not teaching BB classes, you can find Brittany at a Crossfit class or flipping waffles at Starving Artist, her family's business.
Brittany is available for personal training, both online and in-person/at home. Find out more about personal training here.
All BB trainers follow a monthly workout schedule at each BB location under the guidance of Founder & Head Trainer Dara Bergeron, and adhere to the latest science in pregnancy and postpartum exercise, and. pelvic floor/core training.